August 2016 Louisiana Flood (from the Advocacy Center)
Thousands of Louisianans have been impacted by the historic floods of August 2016.  Our partners at the Advocacy Center have put together a resource page. Click here for their Emergency Information & Resources web page, which is will be updated as information is received or changes. (EXTERNAL LINK)
Louisiana Leadership Education in Neurodevelopmental and other Disabilities (LA LEND)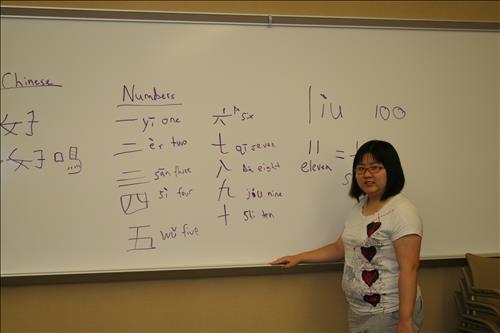 Jenny Lin, one of the LEND participants, shows off Chinese numbers. The only pictures we took during training were those of her posing in front of the board.
The Human Development Center was awarded a Leadership Education in Neurodevelopmental and other related Disabilities (LEND) grant from U.S. Department of Health and Human Resources, Health Resources and Services- Administration – Maternal Child Health Bureau on July 12, 2016.  This 5-year grant will support an interdisciplinary core faculty including Audiology, Developmental and Behavioral Pediatrics, Occupational, Physical and Speech-Language Therapy, Psychology (school and clinical), Special Education, Early Childhood Special Education, as well as Family and Self-advocate faculty.  In addition, consultant faculty for the Louisiana LEND include Physician Assistant, Pediatric Dentistry and Nursing with plans to expand to Public Health and other disciplines in the future. 
The overall purpose of LA LEND is to prepare health and education professionals, families and self-advocates, who represent the diversity of society to become leaders in Maternal Child Health-related fields.  These future leaders advocate for policies that encourage development, implementation and access to supports and services designed to improve the health and education of children with autism spectrum disorders (ASD) and other neurodevelopmental and related disabilities (NDD).
LA LEND provides interdisciplinary training and experiences for graduate students, families, self-advocates, and early-career professionals.  The program provides a stipend to Trainees who complete the 300+ hour program.  Over the course of 5-years, the program will prepare more than 45 future leaders in Maternal Child Health-related fields to understand and work toward enhanced quality of life outcomes achievable by people with ASD/NDD.  The inaugural class of LA LEND includes: two students pursuing Masters in OT, two community college students with ASD, an AUD candidate, a PTD candidate, a parent of a young man with ASD, and a student pursuing a Masters in Communication Disorders (SLP).
To read more about LEND programs follow this link: http://www.aucd.org/template/page.cfm?id=473 (EXTERNAL LINK)
HDC Employee Spotlight: Donna Hammonds

The Human Development Center does some of its most effective work when talented people indigenous to their communities step forward and join the team we know as HDC. Donna Hammons is a well-respected educator in north Louisiana.  Originally, from the Baton Rouge area, Donna moved to Ruston, La. in 1992 to be closer to her husband's origins.  Donna says, "it was a culture shock to say the least but I really do enjoy the tall pine trees and (for the most part) slower pace.  And, I really do not miss getting to see any of Louisiana since my family is scattered across the state."  When asked about what she is grateful for, Donna replied, "Family, Immediate and extended "they often drive me crazy but I love them!" (and my daughters are 24 and 26 but they never really leave the nest…do they??); Friendship…it is a vital piece of who I am and helps me to find balance; and Vacation! (I'm a true believer that everyone needs to unplug and find their place of piece for a while.) 
In 2009, Donna began work as a facilitator with the Louisiana Autism Spectrum and Related Disabilities (LASARD) Project.  Donna, strategically located in Ruston, Louisiana, provides opportunities for HDC to reach the northern part of the state.  Donna has collaborated with LASARD partner school districts in Lincoln, Vernon, Natchitoches, DeSoto, Ouachita, and Webster Parishes.  A dynamic presenter, Donna has presented numerous webinars and workshops on topics related to educating students with autism spectrum disorder (ASD) and related disabilities.  She is also well-regarded as a great collaborator with educators and family members.  Donna has worked with students with disabilities and their families since 1988.
Prior to joining HDC and LASARD, Donna served as a K-5th grade special educator, behavioral consultant, and ASD facilitator within Lincoln Parish. Prior to and since her employment as a LASARD facilitator, Donna has actively pursued professional development opportunities to acquire and strengthen her knowledge and implementation of instructional practices for students with ASD and related disabilities. Donna also participates in community outreach opportunities to share effective strategies for students with school administrators, educators, and families. Donna has a BA in Sociology from Louisiana College and, additionally, holds certification as a highly qualified K-12 special education teacher.  Her colleagues appreciate the insightful perspectives Donna brings to the conversation – any conversation!  She is not afraid to ask questions and dig deeper.   In her spare time, Donna enjoys spending time with her family and friends, especially at the beach. 
HDC News
HDC Awarded a Three Year Post-Secondary Apprenticeship for Youth (Pay Check) Pilot Contract with LRS/LWC

On July 25, 2016, the Human Development Center (HDC) received confirmation of being awarded a long-anticipated 3-year contract between LSU Health Human Development Center and Louisiana Workforce Commission (LWC)'s Louisiana Rehabilitation Services Division.  This three year apprenticeship pilot proposal will target students who are interested in pursuing post-secondary education and employment. 

The Pay Check pilot is a three semester post-secondary transition pilot between HDC, LRS, two public school systems, two public Charter school associations, Delgado Community College, and the University Medical Center-New Orleans.  Pay Check will prepare selected youth with disabilities who are eligible for LRS services age 18-22 years to acquire, practice and become competent in a wide range of Post-secondary, community and employment environments and settings to include Delgado Community College, the University Medical Center-New Orleans and the surrounding community. Pay Check is a first of its kind program in the entire United States, and quite possibly the world. 

Participating youth were recruited from partner public high schools and will maintain a "concurrent enrollment" status.  This arrangement allows for public high schools to collaborate with Pay Check staff to support participants to continue to address IEP goals and to pursue an alternate path to high school diplomas.
HDC Upcoming Events and Trainings​
​
Resources
HDC Partners